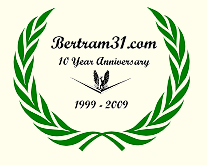 Welcome to Bertram31.com!
---
Bertram31.com Sponsors:
ProSportfishing - Brian Barragy
31 Bertram Specialties - Alex Whitaker
Individuals Supporting Bertram31.com
---
Background:
History - The 1960 Miami-Nassau powerboat race was a watershed event - it marked the birth of Bertram Yacht and the advent of the modern powerboat with its fiberglass construction, deep-vee design, stern drives and larger engines. It was also one hell of a bad day to be out there racing, and it was Bertram's first competition. The seas ran 8 feet, some say 12, and winds were steady 30 knots, gusting higher. (More...)

The Legend of Bertram - This lavishly illustrated coffee-table book commemorates the 40th anniversary of Bertram Yacht Inc., the legendary Miami-based boat manufacturer. Founded in 1960 by Dick Bertram, a champion boat racer and world-class sailor, Bertram Yacht is the world's leading manufacturer of 39' to 60' luxury sportfishing boats. (More...)

Ray Hunt - It was a hasty morning for a test ride, but that's just what owner Dick Bertram wanted. The wind was "blowing out of the east at 22 knots and the seas were rough," he recalled. Looking at driver Sam Griffith through the spindrift, Bertram wondered what to expect from the boat with its radical bottom, a "deep-vee" designed by a quiet New England innovator named Ray Hunt. (More...)

Specs - The Bertram 31 has six distinct variations: (Updated 12/01/05 More...)



Boat Building Tips: - Currently over 40 tips to help you upgrade your boat. Topics range from quick and simple shop suggestions to in depth repairs and modifications. (Updated 10/22/05 More...)


Articles:
The Block Island Rendezvous 2002 was reviewed by both Soundings Magazine and Offshore Magazine. Both articles are available online by visiting the BI 2002 page. (More...)

"Thank God It's A Bertram" - Two rather large images of an article published by Bertram Yachts back in the '80s. The print is a little hard to read, but the impression is worth the download!
The Ultimate in Recycling - Few boats on the water today share the same storied history and devout owner loyalty as the Bertram 31. Over the past several years, these mighty little workhorses have enjoyed a resurgence of interest that borders on cult status. All over the world, eager buyers are snatching up old 31s and restoring them from the hull up, with modern diesel power, generators, air conditioning and all manner of electronic equipment. (More...)

Though unmistakably Bertram, the Finest Kind just doesn't look like your daddy's Bertram. Not cosmetically thanks to a custom finish of soft blue on the hull sides and ice white on the superstructure, nor in the cockpit or interior. This 27-year-old classic 31 changed hands (in 1991) and was torn down and remade from stem to stern. (More...)

A glance around the large storage yard at Worton Creek Marina near Chestertown, Md., reveals two classic but tired Bertram 31s side by side. Bertram 31s seem to pop up everywhere, in and out of the water, some looking better than others. Bertram 31s seem to pop up everywhere, in and out of the water, some looking better than others. Coming across older Bertrams in boatyards, back yards and barns is not unusual; these tough and sturdy fishing boats with deep-vee hulls were heavily built to last. (More...)

Fishing With a Legend - There have been so many advances in offshore fishing boats over the past 30 years that it would seem grossly unfair to compare today's super-specialized sportsfishermen with those craft who pioneered the genre. New hull materials and designs, vastly improved power plants, addition of built-in fishing equipment like in-deck fishboxes and live wells, bait prep stations, wash-downs, and cabinets for all the new electronics have pushed the envelope of fishing technology to the limits. The older sedans, raised bridge cruisers, and boxy flybridge boats designed for generic boating just don't measure up. (More...)

Performance specifications - Paul Gozewski (Capy) - "Slip is the first measure of vessel performance. Lower % slip is more efficient. " (More...)

Event Planning Guide (8/7/00)

Depending on the size and nature of the event, the work required to make it happen will vary. But even the most casual rendezvous will require a fair amount of effort, and events such as "Shoot Outs" and other tournaments will necessitate a vast amount of advance planning and numerous staff members to cover the various responsibilities required. (More...)
Braggin':
It ain't Braggin' if it's true!



Get Your Own Personal Images Directory at Bertram31.com - Not everyone has access to a Web Server and their own personal web files. Nor do they want to go through the hassle, expense, and learning time required to develop and publish a website. But wouldn't it be nice if you could at least have your own personal images available for use on the web? Images that could be used when posting to the bertram31.com or other similar bulletin boards? (More...)

Bob Selzler Tangles with the Navy using his Bertram 31 - "Not having kept up with the weekly Navy postings I did not realize that a full out gunnery bombardment had been scheduled for the little cove that I had picked to ride out a blow and spend the night in. A fact about incoming ordinance... Nothing else sounds quite like it!" (More...)

Lee Irvin of Coconut Grove - Certain Days (8/7/00) "This was the first extended trip in the Bahamas for this crew of friends taken on "Sea Horse", but the boat herself moved with a sense of returning home gliding around on the tongue of the ocean. " (More...)

Paul Gozewski Belatedly "Christens" Capy. - "12 miles across Mass Bay we had our first taste of rough water, as a large wave broke over our heads directly onto the rear of the fly-bridge." (More...)
Featured Bertram 31's
Tom Oakes' "Elusive" Our local Machine shop will make the rudders that I have on my boat. They are articulated, and that contributes to a better single engine response. (More...)
Vic Roy's "Another Joy" ...at the fuel dock at 5 AM when the crew has been up all night chasing you-know-whats at the local (down the bayou) barrooms all night...(More...)
Capt Gale Young's Tow Boat US - Not all Bertram 31's are sportfishing boats! This one has been converted for towing. (More...)
Dug Stowe's "Alchemy" - A 1969 kept in Mystic, CT. (more...)
Paul & Carol Gozewski's "Capy" - Check out the glass bulkhead. (more...)
Listings of Bertram 31's
This new section will contain brokerage and individual listings of Bertram 31's available for sale. There is a one time Flat Rate fee of $150.00 for all listings and your listing website will stay up until you instruct to remove it.. Please send inquires to:

listings@bertram31.com




Links of Interest:
Our links to the rest of the Internet will be rather specialized and pertinent to the Bertram 31. If you know of a link that you feel should be included, or would like to have your website linked here, contact us at:

links_request_B31@bertram31.com
The Famous Bertram Eagle Logo is the registered Trade Mark of Bertram Yachts, Inc. and the Ferretti Group of Italy. Bertram31.com is in no way affiliated with or makes use of the Bertram Logo for commercial purposes. Neither do we represent or speak for Bertram Yachts, Inc., but as Owners and Fans of Bertram 31s we are proud to display the Bertram Logo! Even Norberto Ferretti, owner of Bertram Yachts, Inc. is a Proud Owner of a Bertram 31...
|| FRAMES ON | FRAMES OFF ||

NEW! - Book Store - NEW!



|| Purpose || Features || "Fortuna/Ishgair" || Links || Images ||
|| Guest Log || Bulletin Boards || Articles || Listings ||
|| Screen Saver || Mailing Address ||