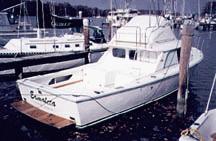 A flybridge model owned by Ray Jennings is one of three Bertram 31s undergoing work at Worton Creek.


A glance around the large storage yard at Worton Creek Marina near Chestertown, Md., reveals two classic but tired Bertram 31s side by side. Bertram 31s seem to pop up everywhere, in and out of the water, some looking better than others. Coming across older Bertrams in boatyards, back yards and barns is not unusual; these tough and sturdy fishing boats with deep-vee hulls were heavily built to last. Some 1,860 of these seagoing pickup trucks were mass produced in Miami from 1961 to 1983 and shipped all over the globe. They were snapped up then, and they are being snapped up now.
At Worton Creek on Chesapeake Bay, a regular Bertram revival is under way, with four Berts awaiting or undergoing the six Rs: resuscitation, revitalization, rejuvenation, rehabilitation, repowering and rebirth.
"This is not a restoration project, as such," says John Patnovic, 52, owner of the full-service yard that has already converted one old Bert into a new old Bert for a multimillionaire Chesapeake yachtsman.
"We look for a sound basic hull, gut the interior, and discard everything except for the basic superstructure and the trademark bow chock," he says. "Everything new that goes into the basic boat is state-of-the-art, including standard twin Cummins 330-hp diesels along with struts, shafts, rudders and propellers." Top speed with standard power is 33.5 knots; cruising speed is 31.5 knots. Fuel capacity is either 190 or 230 gallons.
Starting with a bare, empty shell enables the yard to customize the interior to the new owner's wishes. Some retrofitted Bertram pieces, such as the aft deck section, are being manufactured.
"If we get lucky, we'll find an owner of a backyard Bertram who has stripped the interior but has never gotten around to finishing the project," Patnovic says. "That actually makes the boat worth less, but it makes it easier for us by eliminating that first step."
The marina is the winter home for nine Bertram 31s, including three awaiting work: Carey Martien's Lucky Lady and Ray Jennings' Ermaleta (both flybridge models), and Myrt Gaines' Myrt's Bert, a Bahia Mar model.
At Worton Creek you can check out a Bertram project in the waiting, planning, beginning, finishing and finished stages. Some new owners favor an inside helm station enclosed by canvas, while others opt for a solid enclosure with a door. The canvas work is done by Nancy Wettig's Maryland Canvas & Embroidery in Rock Hall, Md.
"Some like flybridges and some like the topless sedan model," Patnovic says. "I like the clean, low sweep of the plain sedan, but the flybridge adds another dimension, with an outside steering station and better visibility."
Formerly involved in the start-up and turnaround of small to medium-sized companies in Houston, he got into the Bertram turnaround business in the spring of 1998, six months after coming east and buying the marina. He was looking for a small, renewable project to keep his repair crew busy during the summer.
"I heard that the Virginia Marine Patrol was selling three dependable Bertram 31s, so we went down and looked them over, turned in the highest sealed bids, and got the boats," he says. "We drove to Deltaville, Va., with a crew and a load of parts and equipment, put the boats in the water, and motored the trio home to Worton Creek that night."
Although he prefers not to reveal what he paid for the boats, he is happy to reveal the base selling price of the new turnarounds: about $175,000. "We do high-quality work and use only the best materials. [We] turn out what is essentially a new, repowered, customized classic," he says. His schedule calls for two refinished Berts a year.
His first customer, George Collins of Gibson Island, Md., went considerably over that base price, requesting a teak aft deck, and varnished teak and burled walnut trim. Collins (sponsor of the Whitbread's "Chessie" entry) told Patnovic he wanted a swift dayboat and did not intend to sleep or cook aboard. His finished sedan, named "Bushwacker," has a pair of 370-hp engines, a V-berth with a concealed head, two opening roof hatches, fridge and sink, and a wide aft transom settee in place of the traditional fishbox.
Bushwacker (named Rappahannock in her workaday life) was the first Virginia Marine Patrol boat to get a new assignment. A second one (Northampton) was being gutted this winter in the stripping-out shed for Don Cantor of Chestertown, Md. The third Virginia vessel (Accomack) is the yard towboat, working for her keep unless someone who's in the market for a full conversion comes along. In the paint shed this winter was Mike Gaffney's flybridge model, Slainte, primed for an Interlux barrier coat below the waterline and an Awlcraft 2000 paint job topsides.
The former Northampton will become Making Memories II. Cantor, who once owned a Bertram 46 in Southern California, cruised to the Chesapeake seven years ago from Florida in a Hatteras 56. He and his wife, Dianne, were looking for a marina to buy and settled instead on a bed-and-breakfast overlooking the Bay near Fairlee Creek, just south of Worton Creek.
"We have been boatless for seven years and were looking for a picnic boat suitable for our yellow Lab, Beau," Cantor says. ŅI was impressed by Patnovic's work, his enthusiasm, and his knowledge of plastics, resins and particularly of Bertrams." They'll keep the boat at Mears Great Oak Landing Marina Resort next door to their bed-and-breakfast, Great Oak Manor. Mike and Bonnie Gaffney of Gibson Island were lured to Worton Creek by Collins, their boat-happy neighbor, who convinced them to buy one of the old Bertrams. "We turned to him because he has a fleet of boats, and we were looking for an overnight picnic boat," Gaffney recalls. "We looked at Rappahannock with him, and he said, 'I'll take it!' and bought our boat right out from under us. I had to wait until Patnovic found another Bertram. My boat will have a traditional dinette that converts to a berth for two, and an enclosed head."
Patnovic's Worton Creek Marina is not the only boatyard redoing Bertram 31s. Boatyard owner Bill Fritz carries out renewals in Brick, N.J., and Hunter Scott has given new lives to at least a dozen 31s at his facility in Pocasset, Mass. Trying to keep up with all this renewed interest and activity in Bertrams in general and 31s in particular is Chris Caswell, a Seal Beach, Calif. boating enthusiast who owns his fifth Bert, a 1966 25-footer.
"Boats and boating tastes have changed so much over the years, from boats for fishermen to boats for the family demanding more comfort and convenience," he says. "People have also rediscovered the classic, traditional look of a boat that looks like a boat."
"Bertram 31s were built as low-maintenance offshore boats for a bunch of guys who want to fish, quick-hose the boat down and go home and eat their catch," Patnovic says. "The boats take much more punishment than the operators. Structurally, they are excellent. They are also irresistible, and they can capture the imagination."
Patnovic grew up in Newark, Del., and came to know the waters of the Bay's upper Eastern Shore because of two uncles who had boats on the Sassafras River. He had been looking for some kind of marine business to get into when he found the Worton Creek Marina and Boatyard on the market. The 85-slip facility, founded in 1949, has 77 moorings and can accommodate 185 boats in dry storage.
Included in the marina's staff of 12 is his wife, Libby, who runs the ships store. In the summer, daughters, Martha, Beth and Amy, join mom and pop in the work force. The Patnovics live aboard their Hatteras 70 while waiting for their waterfront home to be built on the property. He now is proud to say he walks to work, although he looks forward to the day when he can say he rows to work.
Worton Creek Marina, 23145 Buck Neck Road, Chestertown, Md. 21620. Phone: (470) 778-3282, ext. 12; fax: (410) 778-3395.