Capt Patrick McCrary








Well, this is one of the rare images of me, and as usual, I always seem to be in some sort of disguise when a camera is pointed in my direction...

This was taken in Cozumel, while the boat I was captaining was in Puerto Aventuras for 6 weeks of awesome sailfishing. No, the good looking "mate" with me isn't my wife or girl friend. That's Terri Calvi, Mike Calvi's, (owner of the boat), wife, Hmmm, where's Mike while Terri and I are having a grand time? Behind the camera, of course! Great couple and very good friends.

A bit of background:
Born in Lubbock, Texas, (1943), the son of sailor man. Dad was doing his bit for the war effort, stationed on Guam, as a 1st class Petty Officer in the Sea Bees. The first memory I have of him was when Mom and I, (age 2), met him coming home from Guam in San Diego, CA. Appropriately, I was dressed in scaled down "Dress Blues" replete with white hat, 1st class chevrons, and a "battle scar". (I'd already managed to get the first of many childhood stitches and cuts by 18 months of age). So destiny was set. I was doomed to be part of the boating world before I could speak my first compound sentence!

The years between then and age seventeen were much the same as for most other "baby boomers". I did distinguish myself as being somewhat of a teen aged rebel. My academic history was less than average and I never seemed to be satisfied or challenged with what I should have been learning. Too many more important wonders filled my mind. Going to sea as a sailor in the U.S. Navy was a total preoccupation and I couldn't watch enough "Victory at Sea" on the television set. (Remember the music? Naw, you're probably too young!)

Dropping out of High School at age seventeen and joining the Navy was both exciting and my first "Big Boy" challenge. It was also my first major wake call from the world of reality!

Four and a half years with "Uncle Sam" was mixed with a wealth of experience, learning, and practical training that would lead to many of my current talents and abilities. While most kids were still in school learning to be doctors, lawyers, accountants, and such, (so that some day they could afford to buy boats), I had already been trained as a coxswain of a 64 ton, 56' LCM, and had qualified on just about every small craft below that size that the Amphibious Navy had. Damn, running 64 tons of steel onto a beach, from a 6' -8' surf, is a toot!

Always looking for new skills to learn and challenges to meet, the Navy also afforded me training as a qualified submariner, (USS Picuda, SS-382 a Guppie IIA, stationed in Key West ) and an introduction to Salvage & Rescue aboard the USS Florikan, ASR-9, a Sub Rescue stationed out of San Diego.

I never looked towards a career in the Navy, so mustered out in 1965. I'd received a GED High School Equivalency Certificate while in the Navy, so after settling back into civilian life for a few months, enrolled for my first college courses in the fall of '65.

My interests carried me through courses ranging from physics, marine biology, and eventually to Fine Arts and metalsmithing. While "Uncle Sam" picked up part of the expenses through VA Educational, part of my economy came from employment with Shell Development Co. as a computer operator and junior utilities programmer. Those were the days of FORTRAN IV number crunchers and a computer that filled a whole room, (Univac 1108).

Graduating from University of Houston in 1972 with a BFA, my playing around in the Fine Arts Department brought about an sixteen year career as a Master Goldsmith. By 1987 I was growing weary of "Susie Gotrocks" ordering a custom designed diamond and platinum cocktail ring on Tuesday and wanting it before Friday night's shindig. I'd had a lot of fun designing and producing babbles and do-dads for the rich and famous, but enough was enough!

The Sea Beckoned... Again... "Retirement" from the jewelry industry was emotionally and economically akin to leaving home in 1960 for a stint with the Navy. I already had a 50 ton USCG Captain's License, but breaking into the network of "Fish Head Captains" and "Cowboy Boats" took about a year. My first real permanent "captain's" job came in '88, running a 46' Bertram for a client that I still work for to this day, (4 boats later).

A certain degree of boredom, (one of my oldest friends), set in, and I found myself missing the creative nature of goldsmithing. By this time, (1990), I was running Mike Calvi's 48' Ocean Yacht SS. He mentioned one day that he'd like me to find someone to build a custom livewell into the teak cockpit deck.

Well, Heck! Sounded like a Hoot to me! Why let someone else have the fun... Within a short period of time the 35 gal livewell was designed, installed, and pumping water over a couple dozen "Greenies" out on the rip! My first, of many, custom projects for a boat.

The next seven years became *very* busy. I elected in 1992 to stop being a full time captain for a single owner. This gave me more latitude to do custom boat projects and still get out on the rip with the rest of the fish heads. Between projects, fishing, and managing 4 boats, my cup runeth over... But something was still missing.

There's that "degree of boredom" creeping back in... Intellectual stimulation seemed to be the missing ingredient. Reading was OK, watching TV only turns the mind to mush, all conversations seemed to be fish and boats. That'll probably never change. What the hell, buy a computer! I hadn't touched one in over 30 years, but all I could hear was how some 6th grader was doing his home work on a desk top. Who says that old dogs can't learn new tricks?

So, three years ago I plopped down $3K for a complete PC system. All the bells and whistles... After a couple of months of trying to learn CAD programs and playing computer solitaire, I figured it was time to see what all this Internet stuff was about. AOL greeted me with open arms at $2.95 an hour, and showed me the wonders of the Information Super Highway! Chat rooms, sex sites, instant messaging, "keyword" was the "buzz word"! Jeezee, what to do with it all?

Soon I found my way into a boating forum that had a young lady as the ring leader. It was mostly a group of New Yorkers who took their boats out on the Hudson on the weekends, and planned their forthcoming hijinks in the chat room during the middle of the week. I don't think they had had a "real" captain ever wander in, so I was again, (in true AOL fashion), greeted with open arms. Goofy sound files abounded, snide remarks and good humored fun was poked about, and in general, everyone had fun. Little useful information was ever presented and soon this past time seemed to be counter productive.

At just about this point, the Boatingldy, (her AOL Nick), tells me that she's trying her hand at HTML and her first "Home Page". Would I take a look at it and offer my constructive criticisms and help? Me? What the hell did I know about HT-whatever or home page construction? Hmmm, another challenge!

While I didn't know squat about this HTML business, I did know that her efforts thus far were failing miserably. The page was a mess, things didn't work that were supposed to, my Fine Arts background was screaming "Visual Foul !". OK, work to do... Things to learn.

I had installed a copy of Netscape Gold on my system, and discovered that it had a routine called "Composer" that generated HTML coding and worked similar to a word processor. I started playing around with it, and in about 45 minutes had before my eyes my first "Home Page". It was an experience not unlike that first livewell, or first piece of jewelry that came from my own two hands. Damn, I can do something here other than play solitaire and chat with Bayliner owners!

In short time we got Boatingldy's home page working, I soon dumped AOL for a "real" ISP, started digging into the mechanics of this HTML business, and started expanding that first home page into my first full stand alone domain: USAMARINE.COM.

I could babble on about the time between that point and this, but would rather skip on to BERTRAM31.COM. As some of you already know, bertram31.com was borne as yet of another "idle moment in my search for new horizons".

My involvement with the B31 started with long time friend Jerry Wells and "Fortuna". That was in 1995. After meeting with a B31 client from San Juan on Thanksgiving eve 1999, I did some casual web surfing looking for websites devoted or pertaining to the B31. I wasn't overly surprised at the lack of sites that met the mold. Only Glass Tech's site really addressed the B31 specifically, and most of the remaining sites were charter fishermen running the B31.

The original "Fortuna" page, (that I'd done primarily for Jerry to show to some of his friends at Cornell and was not disclosed as a link anywhere else), was still showing up in several of the search engines. I'd averaged about one email every two months or so from B31 owners asking questions. Not enough fan fare to divert my attention towards doing any more with the page. Then something stared me thinking a new....

Most of the search links were leading to various bulletin boards. Boating boards, fishing boards, mechanical boards, and always the posts were crammed in with all of the other folks that had nowhere else to go for their exchange. What a shame for such a great boat to be caught in the middle of a Bayliner Raft Up or a bunch of carp fishermen!

As with Boatingldy's needs, the gauntlet had been thrown down. I put aside everything else, (heck it was Thanksgiving weekend and my "boss" said I could take off early... I sometimes talk to myself), and got down to business. By mid-night the first semi-polished draft was uploaded. I started making public announcements the next morning, submitting to the search engines, and here we are!




Just to briefly fill in some of the gaps, here's some chronological dribble:


9/24/60 - 5/18/65 U.S. Navy
6/65 - 9/69 Various jobs and Educational Institutions
9/69 - 5/72 U of H culminating in a BFA Degree (Metalsmithing)
5/72 - 6/80 Sole Proprietor of Goldsmithing Firm
6/80 - 6/82 Master Goldsmith for Parisian Jewelry Firm
6/82 Moved to Miami, FL

6/82 - 6/83 Master Goldsmith for Miami Firm
6/83 - 6/88 Master Goldsmith for Palm Beach Firm
7/85 Start Palm Beach Chapter of FCA, (now CCA)
7/85 - 4/88 PB Chapter President FCA
6/88 Leave the Jewelry Industry
6/88 - Present Self Employed: Boat Captain, Marine Carpentry, Custom Fiberglass Design, Webmaster, Web Design, and Bertram 31 Consultant.
2/2006 - Moved back to Texas after finally getting my fill of Florida, (24 years...)


The past 14 years. (1988 - 2002), have also afforded me the opportunity to make numerous trips, on numerous boats, up and down the east coast, Bahamas, Gulf of Mexico, and the Yucatan Peninsula. Some were fishing trips, some were deliveries. All were an adventure!

The best times have been since the creation of BERTRAM31.COM, (10/24/1999). The new found friends, the camaraderie, the events and even the trials and tribulations have been the highlight of my life! Thanks Guys!

As Paul Harvey always said: "Now you know the rest of the story", or at least the high points...



Back to work....







As always...

Best regards,





Capt Patrick McCrary
bertram31@bertram31.com
384 Scott Dr.
LLANO, TX 78643
325.248.0809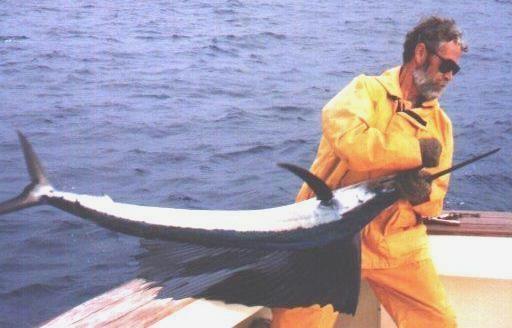 ---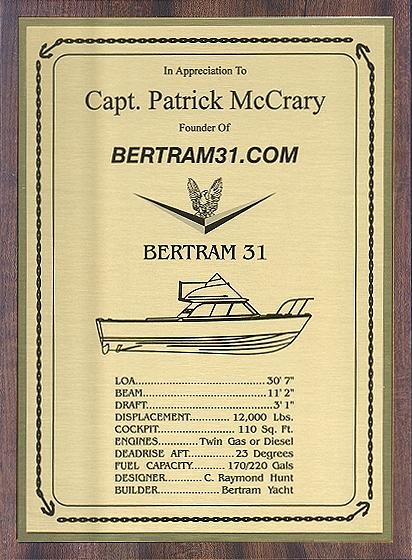 "From all the gang, this is presented to Capt. Patrick McCrary in appreciation for his founding and continued inspiration of Bertram31.com. It is a gift from all the loyal regulars that frequent the site, as well as the many silent visitors who enjoy that wonderful web page.

We are also grateful for your unselfish spirit in sharing your wisdom and knowledge about boat mechanics and craftsmanship to all who inquire.

Patrick, you are more than a friend, you are family to us. God bless you."

Tommy Drake -- "Island Girl"

(Presentation by Uncle Vic at the UVII 2002)


|| FRAMES ON | FRAMES OFF ||



|| Purpose || Features ||
|| "Fortuna/Ishgair" || Links || Images ||
|| Guest Log || Bulletin Boards || Articles ||
|| Listings || Screen Saver || Mailing Address ||











site creation and maintenance by:Capt Patrick McCrary

©
834 Scott Dr. LLANO, TX 78643
Telephone 325.248.0809
Web site questions or comments to: bertram31@bertram31.com