---
Side Window Moldings for the Bertram 31


In my continuing quest to eliminate all aluminum from the B31, I have developed a fairly simple revel system that can be installed in lieu of the side window frames.

This treatment was first done on Jerry Well's B31, "Fortuna" in '95, but was glassed in directly on the boat, making the process more time consuming. By making up the basic stock in the shop & using PVC Foam Board as the core and polyester resin, all of the really hard and messy work has been eliminated.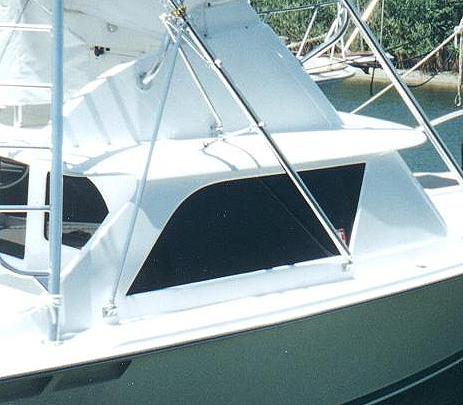 Please Read Carefully before ordering any parts.



This system is now available in kit form with the sections being long enough to fit into any Bertram 31 regardless of dimensional differences between the various year and hull models, excepting of course the Bahia Mar. The system can also be used in conjunction with the stock aluminum front window frames for those wanting to keep the front windows.

The cost of the molding kit at this time $650.00, plus shipping and handling, (window glass not included). I won't keep any secrets as to how to construct your own kit, but I can assure you that most won't have much of a savings left after they finish the learning curve and have access to a very complete fabrication shop.

I anticipate installation time, through fairing to be paint ready, to be about 20 hours, and as usual, the kit will have a detailed set of instructions, including having the glass cut and glazing. All in all, the total cost of this system will be comprable to installing a new aluminum framed fixed glass system, except you'll no longer have the inherent problems of aluminum corrosion. You will have a very custom look to boot.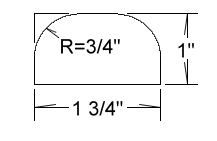 The base core material for the straight sections can be formed from wood 1" thick and 1 3/4" in width. Two edges of this stock will shaped with a 3/4" round over bit on the router. Wood will be acceptable for these sections since the entire surfaces will be encapsulated in fiberglass and no external screws will be used after the installation is complete.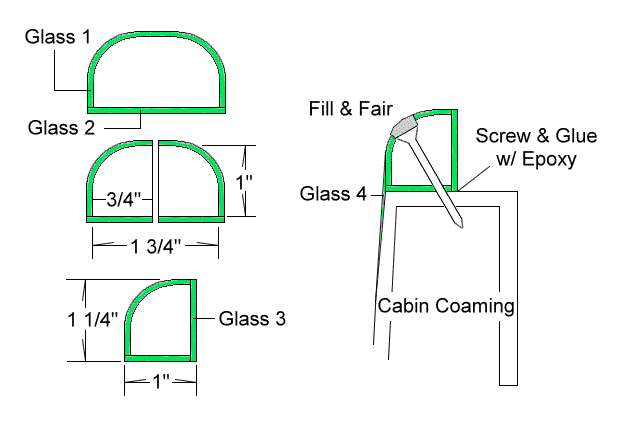 With the base stock prepared, the first step will be to glass over the sides and top with 4 layers of 1 1/2 oz chopped strand mat. This will produce a skin thickness of 1/8".

After the first glassing is complete and the excess overhang is trimmed back flush with the remaining surface, four layers of mat are laid up on the bottom.

When that glassing has cured, the now encapsulated stock is ripped down the center on the table saw, producing two sections of the molding. The now exposed wood side, (the side that will face the window glass), is laminated with 4 layers of fiberglass, completing the straight stock.

Now that part of the job is pretty simple, but the down curve sections are the hardest part... That section will be built in much the same manner as the straight stock, but will require Laminating multiple strips of thin PVC Foam Board over a form that will produce the desired shape and dimensions.

Once the moldings have been dry fitted to the boat with screws and the configuration is acceptable, the pieces are un-installed, thickened epoxy is applied to the joint areas and the pieces re-installed.

At this point a small radius must be built in at the three corners of the frame, transitioning the joints to flow into one another. The final glassing will be the frame to the coaming of the boat and can be done with a single layer of fiberglass mat or light weight fiberglass cloth. All that is left is to fair the new frame so that it appears to have come out of a mold as a single element.

For an image file of the installation progression, go HERE

For a long image list, please see: Pictorial Progression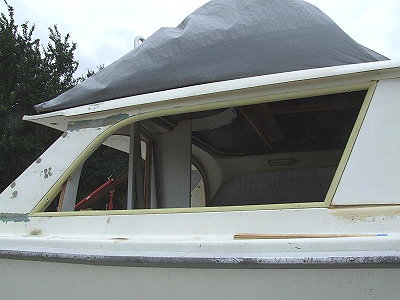 For further discussion please contact:

Patrick McCrary at 325.248.0809 (LLANO, TX)