(click images for larger view)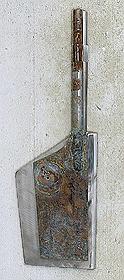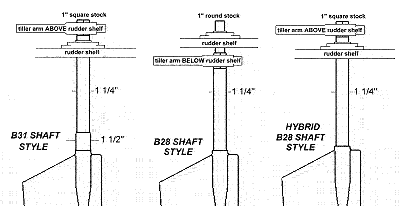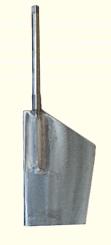 PHOTO

Over Sized Rudder Replacement
for Both 31 & 28 Bertrams
Please Read Carefully before ordering any parts.

Now Available: B31 Style Top Shaft for B28 style owners wishing to convert to a tiller arm above configuration.

---
"I installed a set of Patrick's Monster Rudders in place of my tiny B28 style ones and the difference is nothing short of astounding. Total control on one engine at any speed.

Had to adjust the autopilot gain way back to accommodate them, and she now runs like on tracks with the pilot. These rudders are a bargain at twice the price and a snap to install."

UV (Vic Roy - Known to the faithful as "Uncle Vic" - Posted on the BB 03/01/03)

04/08/09 - To date there are over 300 Bertram 31s and over 60 Bertram 28s that are equipped with these rudders. In every instance the owners have expressed complete satisfaction, and some, especially with the B28 style rudders on their B31 have been totally astonished at the difference in performance with their new rudders...
---

04/22/12 - I made it almost two years this time without an increase, but it's here again... I have tried to keep a constant price for my rudders, even absorbing some of the increases as they come. The latest increase has forced me to raise the direct price again. The increase reflects only material cost, with labor still the same as what it was 7 years ago...

Shipping costs have been held for years, but that also has had to be raised.

04/22/12 - Price per pair is $1,856.00 direct, (List is now $2,300.00 and average marina/boatyard mark up over list is 20%, so they sell them for $2,700.00 per pair or more.)

Blade construction is 316L Stainless Steel and the shafts are Aquamet 19. The 3/8" thick rudder plate is flat, as opposed to having a thinner leading edge as is the case on most of the stock B31 rudders. This in no way compromises performance.

Delivery time will normally be 2-3 weeks within the lower 48 states and shipping, unless other is requested, will be UPS Ground.

Note that the blades are mill finished with 80 grit on a high speed grinder. This is the best surface to hold bottom paint and finishing beyond this point would drastically increase the cost.


---


The rudder design for the B31 went through several evolutions from 1961 - 1986 and often Bertram substituted the B28 rudder on the Bertram 31. Three blade designs were used and two shaft designs were used.

The B28 design was the smallest of the rudder blades and performs marginally on the B31 at speeds of less than 10 kts with both engines running. With only one engine running the B28 rudder is virtually useless.

The first blade design for the B31 was larger than the B28 blade but was still too small to perform adequately with only one engine running. The final stock design used by Bertram for the 31 was a good improvement over the other two, but still required that a larger amount of rudder angle in order to steer a straight line while operating only on one engine.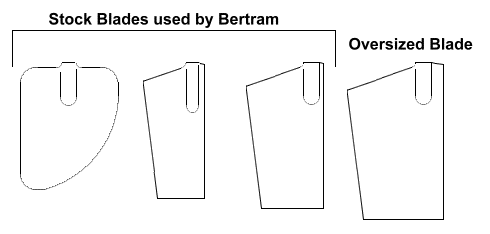 The blade design on my rudders is based on this third design and has been increased in blade dimensions to add an additional 25 square inches of surface area. This means that even trolling at low speed on one engine, and maintaining a straight course line, is possible with very little compensating rudder angle. As speed is increased, (still on one engine only), the amount of compensating rudder angle is further reduced.

The degree of improved steering efficiency with my rudder design for your boat will depend on which stock design you are now using. If you have the final B31 stock design, (approximately 104 sq in), your increase will be only about 1 steering wheel turn less using mine. If you have the original B31 rudders, (approx 85 sq in), the improvement will more than double. Should you have the B28 rudders installed the improvement will be vast. You literally can not steer the B31, with one engine, on a straight course with the B28 rudders.

The B28 rudder is easily identified, even with the boat in the water. (Looking at the rudder assembly from inside of the cockpit.) If you have an upper flange bearing ABOVE the tiller arm, you have the B28 rudders. If the bearing is BELOW the tiller arm, (the tiller arm is on the very top of the shaft), you have either the first or second design B31 rudders.

There will be no need to change your shaft configuration if you have the B28 rudders. I build the same oversized blade design for either shaft.

Looking at the rudder blade, the B28 blade is very small and shaped more like a shark fin. The 1st design B31 rudder is more rectangular with heavily rounded corners and rather thick. The 2nd design B31 rudder blade is almost identical in shape to mine, and is capable of steering a straight course on one engine only.


---


Pricing is stable, but subject to change. The current price at the time of an order is fixed, so any increase would not be added to your current order. Price changes will be updated on the Bertram31.com website within 24 hours of the effective change.



How do I know which style shafts to order?



Payment is by check, money order, or wire transfer only, and funds must be in US currency.

Please note: Orders will not be processed until funds are received. All International orders must be paid for by wire transfer only. Calculating your final delivered price within the Continental United States:

Crating and Shipping: (Priced at cost - no markup)

Total crating charge: $21.00

Domestic UPS Ground shipping:


Southeast region, including Gulf of Mexico - $34.00 (+ $21.00 = $55.00 S&H
Total $1,911.00

MidAtlantic region, (SC, NC, VA, MD, NJ) - $40.00 (+ $21.00 = $61.00 S&H)
Total $1,917.00

Northeast region, (NY, CT, RI, MA, VT, ME) - $48.00 (+ $21.00 = $69.00 S&H)
Total $1,925.00

Southwest region, (CA south of San Francisco) - $56.00 (+ $21.00 = $77.00 S&H)
Total $1,933.00

Northwest region CA north of San Francisco, OR, WA) - $60.00 (+ $21.00 = $81.00 S&H)
Total $1,937.00 or

US orders outside of Continental US, (including AK, HI, PR) Must go Air Freight - Call or Write for Shipping fees...

All foreign orders must be paid by Wire Transfer in USD.
Purchaser MUST make their own arrangements for freight outside of the US. I will ship only domestic. Below is a partial list of International Freight Forwarding Companies:

APX - http://www.shipping-worldwide.com/

IAN - http://www.ianintl.com/

American Baggage - http://www.discount-shipping.net/

Air Sea International - http://www.airseaint.com/global_freight_forwarder.htm

Livingston International - http://www.livingstonintl.com/

More International Freight Forwarders can be found through Google Search by clicking this link.

NO ORDERS ARE SHIPPED UNTIL FUNDS ARE RECEIVED IN FULL. Checks must be made payable to: Patrick McCrary (NOT bertram31.com) Sorry, no credit card sales or C.O.D. shipments available.


---




The basic schematic can be seen here.



Also available are replacement Bronze Tiller Arms and Connector joints, (sized for either 3/4" tie bar or 1/2" tie bar).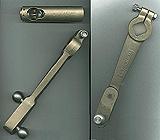 Tiller Arms and Connectors also available for 3/4" or 1/2" tie bar. (PHOTO)
Tiller arm w/Ball joint(s) $180.00 ech (solid bronze w/ SS knuckles, Nut & Bolt) plus s/h

3/4" Connector Joint (Bronze body SS knuckle seats) $135.00 ech

1/2" Connector Joint (Bronze body SS knuckle seats) $135.00 ech


If you are interested in upgrading your stock B31 rudders, please let me know by emailing me at this address:



bertram31@bertram31.com







Best regards,





Capt Patrick McCrary
834 Scott Dr. LLANO, TX 78643
Telephone 325.248.0809